iBabs is delighted to announce a brand-new Meeting Excellence Assessment framework that you can use right now for free and with no strings attached. You can find out in just seven minutes how your meetings are currently performing, where your strengths lie and how you can make the necessary changes to make them more effective.
Inefficient meetings waste everybody's time and effort, but by assessing the key elements of your meeting process, this framework can help you carve the best routes forward for your organisation.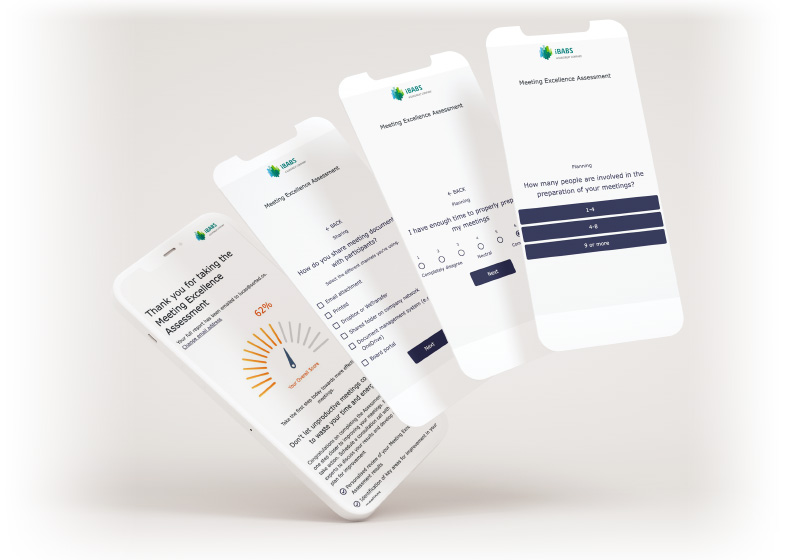 How the Meeting Excellence Assessment works
Simply click through to take the Meeting Excellence Assessment. After you fill in your details, the assessment will ask you a series of questions about different aspects of your meeting processes. They generally require you to show how much you agree or disagree with statements relating to these aspects of the meeting ecosystem:
Meeting planning and preparation
Document sharing and management
Collaborative decision-making and discussion, meeting execution and management
Meeting follow-up and action tracking
Minute taking
Document archiving and search
The assessment takes just seven minutes on average and allows the tool to evaluate how effective your meetings are and in which areas you need to improve.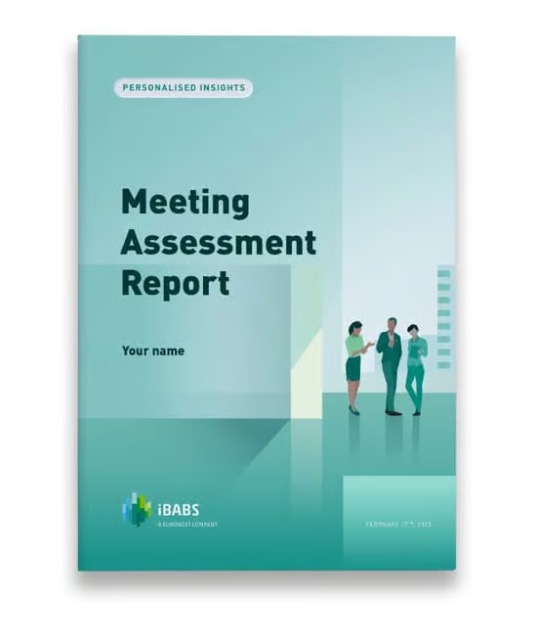 You receive a personalised report, breaking down your performance into the relevant focus areas, recognising your strengths and offering advice on how to take your meetings to the next level. The report explains the importance of each focus area, as well as providing you with resources to help you improve your performance.
The assessment is completely free and there are no strings attached. It is open to any business looking to hold better, more efficient and more effective meetings.
You can also benefit from a free consultation call with an experienced iBabs meeting expert who will discuss your results and develop an action plan for improvement. You can also ask them any questions that you have relating to your meetings.
Benefits of more effective meetings
Better planning means attendees are better prepared and that means you can save time and make better-informed decisions
Having easy access to relevant documents helps to illustrate points more effectively and keep everyone informed
Improved collaboration means you deal with the small issues outside of the meeting room, leading to a more efficient meeting process
Using the correct tools, you can seamlessly lead both in-person and virtual attendees through the meeting in an inclusive and beneficial manner
Having effective follow-up processes means that there is accountability for completing action items that benefit the business
Make sure you take the Meeting Excellence Assessment today.
How iBabs improves meetings
iBabs helps you manage the entire meeting process on a single platform. From creating and distributing the agenda to facilitating collaboration between directors to running the meeting in an efficient manner, iBabs has all the features you need.
It works online and offline and provides alerts to ensure the stakeholders meet their deadlines. All directors have access to the latest versions of the board papers and can easily annotate and access the important pieces of information they need. No more leafing through large, multipage documents in order to try and make a point.