One of the unexpected outcomes of the COVID-19 pandemic was how it revolutionised the way in which we communicate. And one of the areas in which this was felt most deeply was in the world of online city council meetings. Whereas many municipalities once held their meetings in physical form only, often with very few members of the public in attendance, social distancing restrictions meant that the only way to pass important legislation was to do so online. This also made attending council meetings more accessible for the public.
Some governments enacted emergency laws to allow online council meetings where there was no provision previously, allowing council business to continue and to do so transparently in front of citizens.
Today, many local councils and municipalities allow remote attendance at their meetings and webcast them online for the public to scrutinise. For example:
Amsterdam's city council runs an online portal for its meetings.
The Danish municipality of Guldborgsund decided to stream its meetings online in May 2022, stating in a press release that "the city council wants to make the political work and the political decisions even more accessible to the citizens".
Learn how Video Conferencing is integrated within iBabs' Meeting Management Solution
| | |
| --- | --- |
| Benefit | Explanation |
| Increase attendance | Running virtual meetings through a meeting portal allows more councillors to attend. For example, when other commitments mean they can't reach the venue, they can access the meeting online and participate. |
| Simplify paperwork | Councils can distribute agendas and other papers ahead of the meeting, with councillors able to collaborate in the cloud. When using a council meeting platform, it is easier to search for relevant passages to reference in the meeting than when using physical paper documents. |
| Reduce travel | Fewer people need to travel to the venue when you take your meetings online, enabling you to minimise the carbon footprint of your meetings. |
| Reduce expenses | If you pay expenses for travel and refreshments when members attend in-person meetings, this can be reduced by hosting hybrid or fully virtual meetings. |
| Increase transparency and accessibility | Being able to view proceedings from home makes it easier for the public to witness the democratic process. They can see the decision-making in action, which provides greater transparency and instils trust in the council and its workings. |
6 steps to make your online city council meetings more effective
1. Document your processes
When you decide to hold online council meetings, you should create a set of procedures to follow that ensure you meet all the necessary requirements. This could include:
Encouraging council members to join the meeting ten minutes before to ensure everyone is ready to start on time.
Introducing all councillors at the start of the meeting, whether they are in physical attendance or are remote. This ensures all attendees and viewers know who is present.
How you will distribute agendas and other documents. This might be in paper form through the mail or in the cloud via a meeting portal.
How you will register votes. This might be through a show of hands or you could use a meeting portal that has a voting facility integrated.
How you will manage comments and questions. The chair might be required to mute the members not speaking and be alert for raised hands or other signals in order to throw to them to ask their questions.
How you will ensure there is a quorum at all times. Technical issues might mean that the meeting is no longer quorate. In this case, you should have a plan to re-establish the quorum.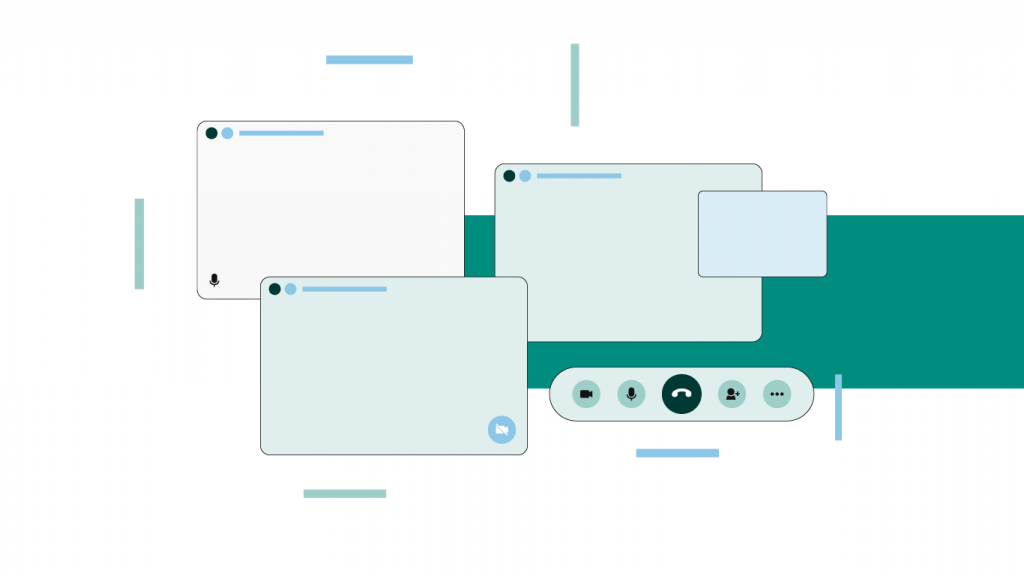 2. Identify the right platforms
There are a number of different platforms on which you can run an online council meeting. They range from simply streaming a physical meeting on social media, such as Facebook Live, to using a general video conferencing app like Zoom, to using a specialised meeting portal.
Streaming on social media allows the public to view the meeting, but it does not provide a platform to run the meeting online and have council members attend remotely. Using Zoom for council meetings allows for multiple attendees to converse with each other, but there is limited capacity for document sharing and collaboration for attendees.
A dedicated city council meeting portal like iBabs combines all the elements you need for a successful council meeting. You can create agendas in minutes, share documents and access them offline from any device, record decisions and save voting information.
Your important data and sensitive information are also protected, thanks to the 256-bits AES encryption within the platform, which is the same standard used by banks and departments of defence.
3. Improve pre-meeting communication and preparation
It is important for communication channels to be open between council members if they are to work effectively together. With a board portal, councillors can collaborate on documents and make notes on the agenda if they feel that something should be added or removed.
The portal ensures that everyone has access to the latest version of each document, thanks to the cloud technology on which it is based. This process also makes referencing specific passages much easier than leafing through a physical stack of papers. You simply search and find the information you require, highlighting it for quick reference during the meeting.
You should also share the calendar of your future meetings in order for the public to be aware of when they are going to happen. This communication shows your commitment to transparency and doing all you can to encourage attendance from your citizens.
4. Allow for different types of participation
There are three main types of participation at meetings:
| | |
| --- | --- |
| Fully in person | Where all council members are located in the meeting room at the same time. |
| Fully virtual | Where all council members attend remotely. |
| Hybrid | Where some council members are located in the meeting room and others attend remotely. |
Taking a hybrid approach to council meetings provides a choice to members and offers the possibility of gaining the best possible attendance. Some people prefer to be in the room whilst others like the flexibility of being able to log in and attend from wherever they are based. This also allows anyone who is still concerned about close proximity with others to join the meeting.
5. Publish your meetings to multiple channels
Once the meeting takes place, you can provide more opportunities for citizens to view the proceedings by posting the video on multiple channels. This improves the reach of the meeting and provides greater transparency, as it is saved online for posterity.
Consider hosting it on your website, social media accounts, YouTube channel and anywhere else it can be viewed by a majority of your citizens.
6. Enhance post-meeting communication
Being able to collaborate with the council members through a meeting portal allows you to improve your meetings in the future. Asking for feedback and suggestions from attendees after a meeting takes place can provide vital input into hosting the next meeting and making it even more engaging and effective.
Make sure you put in place a post-meeting communication plan, which involves distributing the meeting minutes, setting deadlines for action points raised in the previous meeting and gaining feedback on the most recent meeting, too.
FAQs
Who can attend local council meetings?
Usually, council meetings are open to everyone, but this might differ between jurisdictions. Some councils allow the public to observe the meeting by simply turning up on the day but require an individual to register in advance if they want to ask a question.
Can council meetings be held remotely?
The rules for virtual council meetings differ between countries. Some allow remote meetings. Others did this during the pandemic but have returned to in-person meetings now.
Should council meetings be recorded?
The recording of council meetings takes place in a number of different countries. This allows the public to see the workings of the council and see democracy in action. Recording council meetings can be an important tool for inspiring trust in councils.
Conclusion
As such a large part of our lives happens online, it is no surprise that online city council meetings are becoming more and more popular around Europe. The convenience of using a meeting portal to create and distribute agendas, the power of pre-meeting collaboration and the efficiency and economy of virtual instead of paper-based meetings are compelling arguments in favour of online meetings.
iBabs is a city council meeting portal that provides everything you need for a productive discussion. It provides a safe, secure space in the cloud for your sensitive documents, thanks to its state-of-the-art encryption. You can use it throughout the meeting to instantly bring up relevant passages, and it records votes and decisions, too. Plus, council members can join the meeting by video and take part from wherever they are. Request a free demo for your council today.
References and Further Reading