The iBabs team has been hard at work lately, designing the latest version of the platform. We're ready to unveil this important upgrade to our board portal software and are delighted to share it with you.
And the best thing? We developed these updates using the invaluable feedback you have shared with us. The result is a revamped iBabs that is tailored to help you improve efficiency and facilitate informed decision-making.
The first thing you will notice is a brand-new dashboard to help you better visualise your meeting management in a way that works best for you. We have also paid attention to solving day-to-day problems and empowering you to improve your productivity. The document management feature is now more intuitive, and the workflow feature helps you stay on top of deadlines.
Keep reading to find out what to expect from the latest version of iBabs.
Customise your dashboard
The first big change you will notice is on the start page of the portal. The dashboard is redesigned and fully customisable, allowing you to create a tailored view exactly how you like it by adding, removing and modifying tiles. Simply drag and drop the features that matter most to you where you want them and work how you like to work.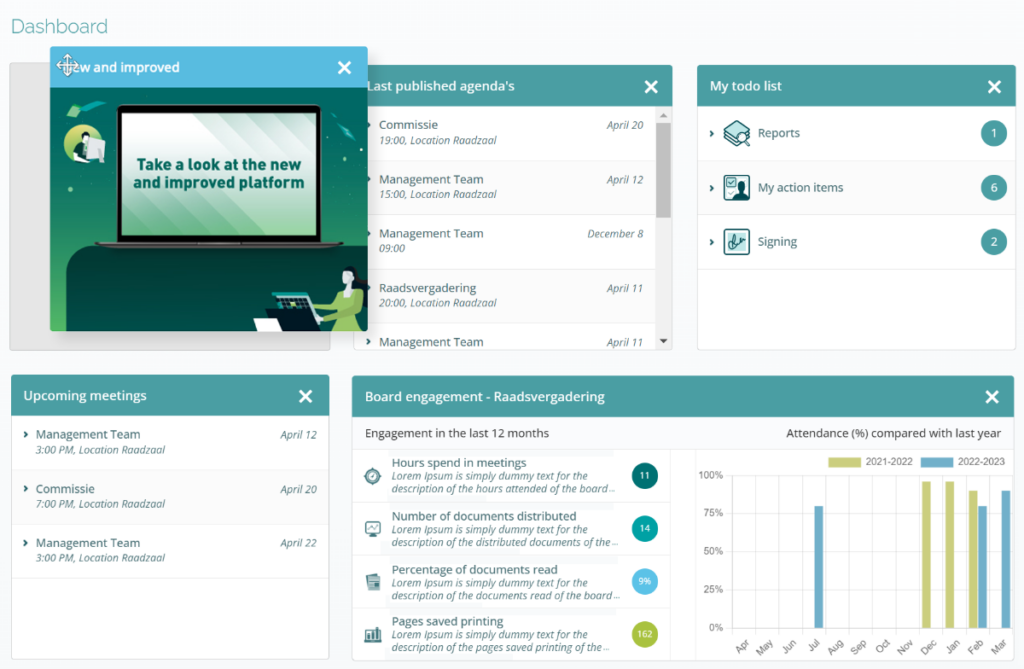 This adaptable workspace ensures that you have instant access to the sections of the portal that you need. No more clicking around to find the tools that you use most frequently. Using our innovative widgets, it is all close at hand whenever you need it.
And don't worry, if you prefer the traditional List or Calendar views, you can always switch back. The choice is yours. We know how important it is to reflect that not all businesses and administrators work in the same way.
Find the files you need
We've also given the document section a fresh look, making it easier than ever to manage your documents and folders. This update allows you to navigate through your files more efficiently, saving you time and effort.
With the new document section, collaboration is seamless and organising your files is effortless. Administrators and meeting attendees can find the information they need more quickly, reducing the time spent on meeting preparation. The result of this is better decision-making in shorter time frames. 

Keep track of decisions and actions
The new workflow section allows you to track the progress of the reports you need for the meeting, as well as of the action items afterwards. The traffic light system tells you at a glance where each task is and what needs to be done to bring the organisation up to speed. 
Bring meeting and agenda management together
We also understand the importance of seamless meeting and agenda management. That's why we've combined these two into a single view in our updated iBabs software. From this convenient one-stop location, you can directly add a meeting or agenda and manage your meetings with ease.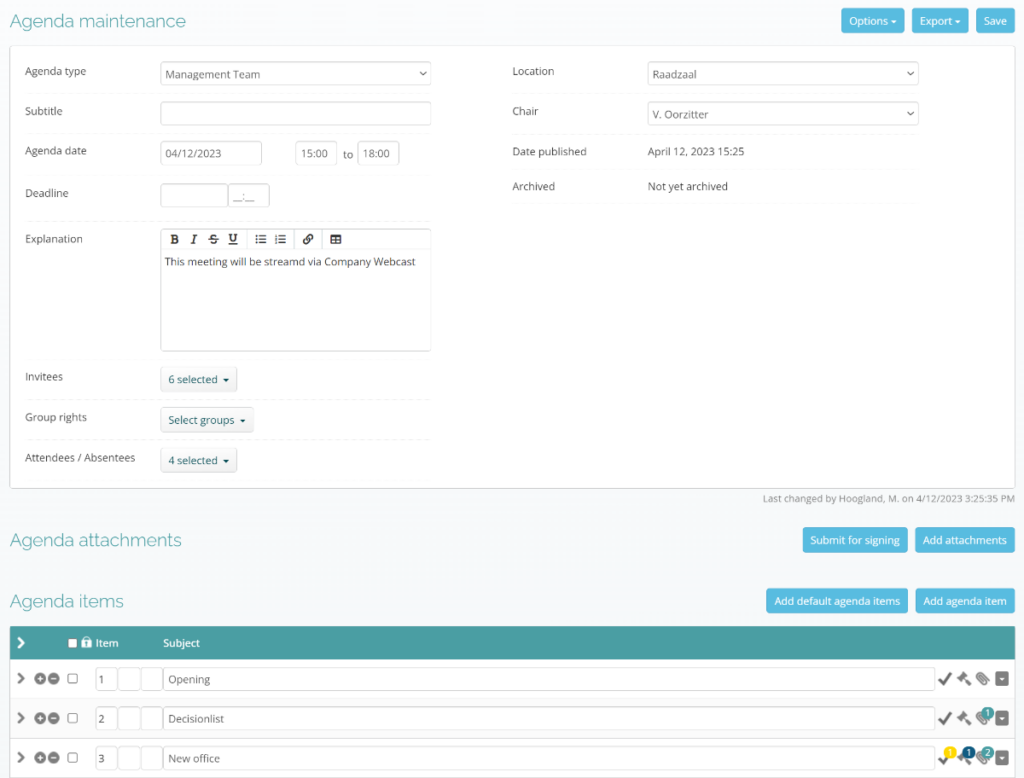 To help you avoid extra clicks, the upgrade allows you to import the text from emails as attachments to your meeting documents. You can also create tables and add links to the descriptions and explanations of agenda items, offering you more versatility in your agenda management.
More improvements in the latest version of iBabs
Sleek redesigned menu which you can collapse to provide an expanded workspace
Upgraded PDF viewer to make reading and annotating PDF documents easier
Simplified publication process that allows you to show or publish your meetings directly from the administration page, saving you time
Advanced security measures to protect your sensitive information
Seamless integration with other tools and platforms, enabling you to work in synergy with your existing software ecosystem
Improved optimisation for mobile devices, ensuring a seamless and consistent user experience across all devices
We're here for you
We want you to get the most out of the updated iBabs software, so we're committed to providing ongoing support and training. Our knowledgeable support team is available to answer your questions and guide you through any challenges you may encounter. Additionally, we offer comprehensive training resources to help you and your team stay up-to-date with the latest features and best practices.
This is our most comprehensive upgrade yet, and we know this will help you achieve even more with your meetings. We are excited for you to get to work with the new iBabs platform, and we would love to hear what you think about it. Feel free to get in contact with your comments and suggestions once you have had time to use the new features for your meetings. 
Want to be notified about future iBabs updates?